"This journey has been like a roller coaster."
During the last week, I completed the draft of my latest novel, DUST.  I also finished a new painting.  Amazing authors
Marya Hornbacher
and
Darin Strauss
recommended me for a Guggenheim in fiction.  My agent gave me some encouraging news, and I had lunch with a VP/Associate Publisher of an A-list publishing company. On the same day, I got a call about a Senior Director position in the pharmaceutical industry.
It sounds thrilling, doesn't it?
I'm on the ascending arch of a gigantic coaster.  The anticipation is
electrifying
.  I'm wondering if I should prepare to hold both arms up in the air and scream my guts out.  I try not to focus on the inevitable drop ahead.  It always comes in some form or fashion.  Down, down, down, I go, and it's terrifying.  I've learned over time that the drop is easier to take if I scream bloody murder, if I let myself experience the absolute, pure emotion of it, the
life
.  Doing so enables me to recover more quickly, and dig up the strength to embark upon the next ascent.
That crazy ride keeps me focused in an odd way.  It's delicately controlled.  It's an outlet.  I'm in a seat with safety devices surrounding me.  There's a system, a balance, and a design.  Before I mustered the bravery to get on that ride nearly twenty years ago, I was all over the place, spinning in a crazy, unsafe, circuitous world of emotion, ideas, and frustration.  I didn't know what to do with myself; I was getting nowhere.
My guest today, artist
Dario Posada
, says that painting keeps him sane.  No matter what happens in his life, he must paint.  It's his big, beautiful coaster.
This week, as I drove toward the Trenton train station, heading to Manhattan to meet with my friend, the Associate Publisher, I asked myself, "What do I
really
want?"
daily
gig.
I'm a writer; I will always be alone in that role. And I also want to be alone.  I need to be alone, submerged in my own internal world, with my words and the clicking sound of the keyboard.  I need to reach for my coffee cup while feeling the ecstasy of a perfect sentence.
Below Dario talks about how he realized that painting is about more than just brush strokes and color.  This week, I remembered that being a novelist is about more than a computer and words.  It's about expressing the experience of life and its exquisite complexity.  The personal coaster I ride somehow illuminates humanity for me.  It cracks open and teases apart layers and layers of preconceived notions and self-limiting ideas. It gives me something to chew on, and quenches my never-ending thirst.
Who knows what will happen next? But no matter what, I will keep writing.  It keeps me sane.  In the end, it's the big, beautiful coaster I ride.  It doesn't need to look like yours.
What's your story (in a nutshell)? 
My first mural was done at the age 12.  I painted
Che Guevara.
  I didn't even know who he was, but I liked his image. I was born in a poor country that was engaged in war (Colombia).  I studied fine arts and environmental engineering. It took four years to convince myself that I should only be painting.
This journey has been like a roller coaster: Colombia, Germany, Spain, Italy, USA, Kenya.  I've been  in each of those countries, both legally and illegally.  My paintings have always taken me further than I expected. She's (the art/talent) stronger than me.
With regard to your current creative focus, was there an "ah-ha" moment you can tell us about?
In 1998, as I was leaving my house to take a painting to an exhibition that I had that same evening, one of my paintings fell out of the truck that was transporting it to the gallery.  The canvas split in half. I didn't know what I was going to do.  The show was just minutes away.  So I decided to sew it and put oil on top to cover the holes that could be seen from the sewing. That's when I understood that the painting was more than just brush strokes and colors.
For you, is art more about creation or expression?
I believe art is an expression that has its on language.
How would you describe the life of a true artist?
A true artist is always sensitive and sincere to himself and everyone else.
Do you believe some of the various attributes related to being highly creative have caused you aberrations in life, helped you deal with life's aberrations, or both?
By nature I'm a very aggressive person,  Painting helps me channel my strength onto the canvas.
During difficult or challenging times in your life, does painting sooth or inspire you? Is it therapeutic in any way?
Going through tough times has never changed what I am painting--just the
way
that I paint.  Something is happening, coming out onto the canvas.
I think people understand when they see the success.  The best test that you can give them and yourself is by exhibiting your painting at an art gallery. People will see it differently than the way the see it at your studio.
Have you developed a specific creative process that enables you to meet your artistic goals? Where do most of your ideas come from?

No, I don't have a process. I don't know which painting will be the next one created or sold. My ideas come from everywhere.
What do you believe places an artist apart from his or her peers? An artist needs to be alone with his painting in order to create it. So many are highly talented, but what makes one stand out as truly gifted?
Discipline--meaning constantly working.
What is your primary motto or mantra in life? Why is this important to you?
Paint no matter what happens. It's what keeps me sane.
Dario's work is currently being shown at the
Area 23 Gallery
in Miami.
Beauty is a socially-constructed phenomenon.
I hate to say it but ... I think about my body
a lot
. I try not to focus on it too much but it's like a screeching monkey on my back. The relationship between me and my 5 foot 9 inch body has seen many stages. It's basically been a love-hate relationship.
Sound familiar?
My closet is filled with clothes spanning four sizes. I never weigh myself anymore; I simply evaluate the situation based on which size fits at the moment. I try to eat healthy, and usually stick to that. However, occasionally I get fixated on a particular food and can't stop eating it. Lately it's been Jalapeno Doritos. I don't like to cook, partially because I've always known that if I cook, I'll eat more. I've always seen food as a sort of enemy. Why would I create or give life,
more power
, to my enemy?
When I was about eighteen, I took diet pills and starved myself until my heart rate became so erratic that I had to see a heart specialist. I was embarrassed to tell the doctor that I was (essentially) overdosing on diet pills. He couldn't thoroughly evaluate the issue. What a mess! I was tall, thin as a rail, and working as a runway model. Was I happy?
Absolutely not.
So you see, body image is a topic that resonates with me. I'm guessing it's also important to you. I've written about
Lizzie Miller
, the
normal
young woman Glamour deemed beautiful, and have interviewed
Marya Hornbacher
about her intense struggle with eating disorders. Now meet
Sarah Maria
. Sarah is a body-image expert who helps people love their bodies no matter how they look. She shows people how to discover the beauty that is already inside of them, right now, in this moment.
Sarah's book,
Love Your Body, Love Your Life
, evolved from her 14 year struggle to find peace, happiness, and success by 'controlling' her body. She accepted that common, pervasive, and deadly poisonous cultural myth:
If I am thin, then I am beautiful … I am worthwhile … I am successful, accomplished, and lovable.
She made her self-worth, self-image, and all hope of ever being happy, entirely dependent on 'external factors' – primarily, trying to live up to an unrealistic, and ultimately unattainable, set of media-imposed standards for how she should look.
Unfortunately ... I can relate.
You have a passion for helping people accept themselves a
s they are. Why is this important to you?
I have a passion for helping people accept themselves as they are because I know what can happen when a person realizes that they are already perfect exactly as they are. Conversely, I know what happens when people do not accept themselves and instead live at war with their bodies and themselves. When people do not accept themselves, when they have conflict within themselves about themselves, there is pain and suffering. People live in a psychological prison, unable to create what they want, unable to move in the direction they want to go. On the other hand, when people learn to accept themselves, as they discover that they are already perfect, they can live with an unshakable peace and confidence. They can more easily and effortlessly create what they desire in life, whatever that may be. Accepting yourself totally and completely is the only sane way to live and yields benefits in every area of life. I know what is possible; I know the magic and beauty that is available to people, and it is my passion to help people break free and claim the life of their dreams.
Y
ou're obviously an intelligent woman. You graduated from high school early due to skipping grades and then received your first degree at 20 years old. Why is it that even the most intelligent women can't se
em to accept that womanly worth should not be based on outward appearance? Can you explain why this happened to you?
This is a great question, and thank you for asking it. In my experience, "intelligence" is a somewhat vague term that often produces confusion. There are many different types of intelligence – academic intelligence, emotional intelligence, kinaesthetic intelligence, etc. There is often no correlation between the different types of intelligence. This is to say that someone might have an incredibly high IQ but little to no emotional intelligence. This is why you can always find brilliant people who do "stupid" things. In my case, academic intelligence did not help me avoid being brainwashed by predominant cultural beliefs about beauty. In fact, my academic intelligence might have aided in the brainwashing. My deepest desire was to be loved, approved of, successful, etc. Since I was academically gifted, I continued to excel in academics and receive approval, without addressing the core emotional and psychological issues that were motivating my behaviour. In my experience, human beings have underlying patterns that drive their behaviours throughout life. These psychological and emotional patterns dictate beliefs, attitudes, and behaviours much more than IQ level. This is why the most important form of intelligence is always self-knowledge. It is when you learn to look inside and discover yourself that you can free yourself from any negative patterns that are keeping you trapped and perpetuating your suffering.
What made you decide to write Love Your Body, Love Your Life? You have gone through your own struggles with body-loathing. What did you learn? And what tips can you share with others undergoing the same struggle?
I decided to write this book because I experienced first-hand the intense pain, suffering, and agony that can accompany Negative Body Obsession, eating disorders, and low self-esteem. I also know that freedom from this hell is completely possible. I want this book to reach people who are struggling with any and all of the above. I also wrote this book to help people think critically about concepts such as beauty, as well as the beliefs, thoughts, and ideas that so many people take for granted.
Beauty is a socially-constructed phenomenon. Different body types, different looks, different sizes are considered beautiful at different times in history. In the eighteenth and nineteenth centuries, curvy and voluptuous was considered stunning. In this culture in this century, thin and muscularly toned is considered sexy. When people recognize that there is no inherent truth in these concepts of beauty, that it is in fact a cultural preference that changes overtime, it helps to dissolve this illusion that how they look is somehow tied to their value and self-worth as an individual. For many people struggling with a negative body image, they believe that how they look is somehow indicative of, or related to, their self-worth as individuals. Nothing could be further from the truth.
When people realize that it is a cultural phenomenon, they can begin to free themselves from the whims and preferences of other people and the world around them, and instead discover and experience their own inherent and unique beauty.
In terms of tips, I would recommend the five steps that I outline in Love Your Body, Love Your Life.
First step:
Set an intention to learn how to love your body. You might have no idea how to make this happen, simply set the intention to see your body and yourself as inherently perfect and lovable.
Step Two:
Identify and Detach from Negative Thoughts. Become aware of what you are thinking and learn techniques for disconnecting from your negative body thoughts.
Step Three:
Discover who You really Are. Discover the truth that you are already perfect, have always been, and will always be. Come to know that part of yourself that is beyond the thoughts you think and the sensations you experience.
Step Four:
Befriend your Body. Most people have an adversarial relationship with their bodies. Your body is the very best friend you will ever have. Learn how to relate to your body as a friend instead of foe.
Step Five:
Live Your Purpose. Everyone is here for purpose and on purpose. When you learn to live this purpose in every moment of your life, you will transform you life from one of pain and struggle to one of joy and energy.
Sometimes women who appear to "have it all" are miserable while other women seems comfortable with themselves and their lives. Why is that?
There are many reasons for this and it is impossible to make a blanket statement, since every person is unique. What I can say is that "external" signs of accomplishment or "having it all", such as money, friends, family, health, "beauty", can have absolutely no correlation to how people feel about themselves and their lives. Everyone has their own story, their own way patterns, their own way of relating the world. When you look at someone else, it can seem like they have everything, yet they are miserable. There simply is no correlation between what you as an observer thinks someone has and what in fact is going on inside their reality.
Body-loathing seems to be rampant, especially in young girls and women. Why is this happening? Is it al
l the fault of the media and fashion industry?
This is an important question and one that I talk about at length in the book, so I will be brief here. No, it is not all the fault of the media and fashion industry, although this certainly plays a role. The real reason, the underlying reason, is the delusional thought-pattern that says we are not good enough the way we are. Whether the belief is about your body size, your bank account, your lack of love, whatever it is, there is the underlying belief that we are somehow lacking something, that we are not quite good enough, that we would be better if and when we change something about ourselves. This whole thought process is what creates and perpetuates the problem. This belief system is what causes people to look at fashion magazines, models, etc. and then think that they somehow would be better, that they would be more beautiful if they looked that way instead of the way they look, if only they had that body instead of the body they have. This is utter nonsense. It is this fundamental belief and experience of not being good enough that creates the body-loathing and all manner of pain and suffering.
Someone recently pointed out to me that human bodies are like snowflakes. No two are the same; they are exquisitely unique. Why do we see the unique qualities of snowflakes as beautiful and the unique qualities of the human body as flaws? We've not decided there is a perfect snowflake and all others are flawed. This seems too basic, but is it because we must cover our bodies and therefore, we all need to fit into the same clothing sizes?
Great question! The reason we see the unique qualities of the human body as flaws is because of mental conditioning. The problem truly is with our eyes, not with our bodies. The body is inherently perfect. It is the human mind that creates the problems. I love your analogy of the snow flake. In Love Your Body, Love Your Life, I use the analogy of flowers. Can you imagine a rose looking at a tulip and lamenting its existence because it was not as beautiful as a tulip? This would be ludicrous, yet it is exactly what we do as human beings. We lament our perfection because we do not look like someone else. This is ridiculous and tragic.
Simply set right your idea of yourself. You were born perfect, whole, and complete, and you will remain that way forever. If you cannot see this, figure out what you need to do to heal your mind and purify your eyes so that you can see clearly.
What do you think of the recent Lizzie Miller body image craze? I wrote about Lizzie Miller on Aberration Nation before her photos became a big deal, so I'm happy Glamour paid attention to the eventual outcry. I hope we'll see lastin
g effects in the fashion industry, but am not sure that will happen. Your thoughts on this?
I think it is great that Glamour has been willing to have more inclusive photos. I know Glamour went on to have a photo shoot with a number of plus-size models. I also think it is great that women were so excited about seeing a different type of body in the magazine. However, there is still very much a bias to young. I think Lizzie Miller is in her early twenties, if I am recalling correctly, and the oldest model in their photo shoot was 35. I think developing an inclusive standard of beauty requires much more than what has been done. Yet this is a beginning and it certainly a step in the right direction. Ultimately it will require women to continue to speak out and support those magazines and companies that promote women's natural beauty. If women will buy magazines with photos of real women, magazines will be much more willing to showcase them. Same is true for fashion, etc. There is a great deal of power in consumer opinion.
Now that you've written a book about body image and are helping others to accept themselves, do you still have days when doubts about your own body creep up? What do you say to yourself when that happens?
This is an interesting and important question. I would say that generally, no, I do not have doubts about my own body. I generally live with a sense of peace about my body and do not worry about it much either way. It is what it is and it is perfect as it is. That being said, occasionally I might notice what I call a Negative Body Thought. For example, when I go clothes shopping, an activity I truly dislike and always have, I might notice a negative body thought creep in as I stand in front of the mirror under fluorescent lights. If a negative body thought shows up in my mind, I simply disregard it and let it go. It has become a so much of a habit that I simply do not pay attention to it. I know the truth of the matter, and the thought does not have any influence over me. That being said, it took me a while to get to this place of effortlessness. When I first started, I needed to be much more pro-active in talking back to negative body thoughts and claiming my freedom. Now it is very habitual and I do not need to think about it. As soon as a negative body thought arises, I counter with another thought or simply disregard it and move on. So at first it can seem very difficult to find freedom from these thoughts, but with time it becomes habitual, just like riding a bike.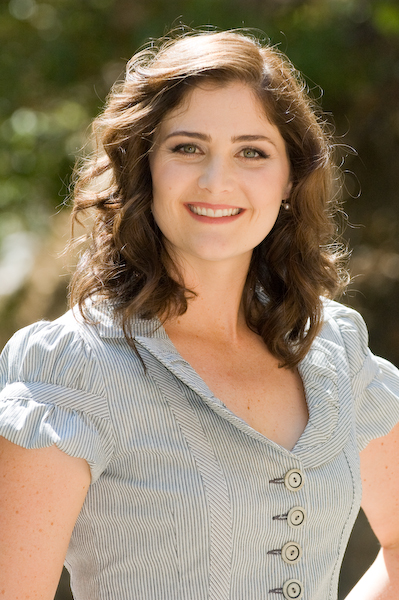 Do you have a personal life motto that you can share with us?
Most certainly. I have two mottos that are very much related and that guide my life constantly. They come from the great Indian sage
Sri Nisargadatta Maharaj
.
The first one is: "You are perfect, only you don't know it. Learn to know yourself and you will discover wonders. All you need is already within you, only you must approach yourself with reverence and love. Self-condemnation and self-distrust are grievous errors…Make love of yourself perfect. Deny yourself nothing – give yourself infinity and eternity and discover that you do not need them; you are beyond."
The other motto that I always hold in my heart is "You are love longing for the love-worthy, the perfectly lovable. Find it within and your search will be over."
"... this circuitous path I've walked has brought me to a wonderful place."
The verb
hunger
means
to have a strong desire
. Lust, crave, itch, thirst. Those are its synonyms. We all hunger for basic emotional needs such as love, acceptance, control, and freedom. And the reality is that some of us focus on these necessities much more than others due to genetics, stress, and personal history.
If only we could place our hands around those wonderful intangibles and shove them into the few open orifices we have. If there were only a safe, fantastical pill that could carry all that we crave deep into the bowels of
who we are
. Could we finally be satisfied? Could we be content with the face in our mirror--warts, curves, and all?
If there were such a pill, it just might work. But there is no magic panacea, and there never will be. If there was,
Marya Hornbacher
would surely have found it. In her critically acclaimed memoir,
Wasted
, Marya shares her courageous battle with anorexia and bulimia. Both conditions continue to be perpetuated by our size zero, competitive society. If our strengths can also be our weaknesses, it may also be true for culture. The American dream, the self-made man, and the ability to
have it all
has a darker side in more ways than one. Our cultural legacy to control our own destiny, and
captain
our own courageous ship, has a sharp edge that just may kill you on the way to your dream.
Marya has joined the Aberration Nation. Her
reflective
answers about her
journey
as well as how our culture continues to undermine those
susceptible
to all types of eating disorders is fascinating, well-said, honest, and inspiring. No doubt, the same aspects that made her memoir a Pulitzer Prize nominee.
You've been diagnosed with and have overcome ano
rexia and bulim
ia. While many of us are now generally familiar with anorexia and bulimia, can you tell us in plain terms what they're re
ally all a
bout? I suspect that some of us still don't get
it.
Eating disorders are complicated, and touch all areas of a person's life--his or her body, mind, and spirit are all affected, and all are involved in the development of the disorders as well. The usual answer given to the question of "what are eating disorders about?" is "control"--and that's not wrong. People with anorexia, bulimia, binge eating disorder, and the variations on these themes, tend to struggle with a sense that they are out of control of their lives and their worlds; the desire for control is then projected onto the body, as a kind of "object" that can be controlled, or so we are told and often believe. In my own experience, eating disorders are very much about fear; the fear that one is too much, not enough, not right, all wrong, and on and on, in a kind of endless refrain of inadequacy and excess, as well as a fear about one's ability to navigate the challenging waters of life and the world. They are also a manifestation of this culture's obsession with food, body, and weight, and a
liter
alization
of the rather deathly images of beauty that are plastered on the walls of our Western world. I am always surprised that people can possibly wonder why some of us get eating disorders, when they are in fact encouraged and rewarded in so many ways. The hell of it is, you often set out with the belief that "losing a few pounds" will make you happier in some vague way, and find that, because of your personal makeup and set of issues, you are caught up in an often-fatal addiction.
Your struggle with eating disorders began at very young age. Can you tell us about that, and explain how young children can also be susceptible to eating disorders?
I developed bulimia when I was nine. It was less common back then for someone to develop an eating disorder so young, but it's terrifyingly frequent now. Children are exposed to the same cultural messages as the rest of us, but they have even fewer filters to help them understand what they're being told; children who are predisposed, through personality, chemistry, and/or family, to develop addictive or otherwise unhealthy behaviors, may develop eating disorders very early on. Children, both boys and girls, are aware of the pressure to have some mythical "perfect" body, translated usually as a thin body, and they may take that pressure very seriously and try to respond. Some kids grow up in families that are actively body- and food-obsessed, so they are aware of the pressures at home as well. In my case, there was a combination of family pressure and obsession with food and weight, plus my own excessive awareness of the larger cultural pressure, plus the various personality traits that contribute to eating disorder development (such as perfectionism, competitiveness, and self-dislike), as well as an underlying mental illness (in my case,
bipolar disorder
); this combination is not terribly uncommon.
How did y
ou come to be diagnosed with anorexia and bulimia? How
did you initially cope? What were some of the greatest challenges to overcoming these aberrations?
I was diagnosed at the age of 16, when the medical toll of the disorders was great enough that I couldn't hide them anymore, and I was hospitalized. My hope is that families, friends, teachers, and counselors are more aware of eating disorders these days and can identify the signs sooner. As is usually the case, I was deeply disinterested in recovery at first, and seriously in denial about the severity of the problem; I didn't want help, and refused to cooperate in my own care. It wasn't until several years and many hospitalizations later that I made the choice to recover. At that time, I clung hard to the people I loved, who were extremely supportive, and I worked my butt off in therapy to get at the root of my troubles. But the simple process of re-learning how to take care of my body, and to trust it, was the most immediately necessary step toward recovering. You can wonder about your issues all you want, but if you don't take active steps to change your behavior, you won't get far. The greatest challenge was my own fear of recovery--I had had an eating disorder for so long that I couldn't discern where I ended and the eating disorder began, so recovering seemed very threatening. A second challenge was tuning out all of those cultural messages that encourage obsession and self-damaging behaviors. That's hard to do, and very necessary. You have to become stronger than the messages you hear, and define for yourself who you want to be, defining that person not by how you look or how much you do, but by who you are and what you believe.
Was there a turning point in your recovery? If so, what made the difference in your life? Was it ultimately something that someone else did for you or said, or was it an internal change or resolve that saved you?
There were people all along the way whose words helped me, even though they didn't magically make things better. I drew on those words of support and encouragement and challenge, and I still do. There is unfortunately no magic moment when one turns the corner; it's a combination of other people's assistance and your own internal determination to live a better life unrestricted by obsession. At a certain point in early recovery, though, I did make the decision to stop the behaviors (binging, purging, starving, over-exercising) absolutely, no matter what; that was a tough decision to make and stick with, but it can be done. I told myself that I was giving health six months--if I hated living without my eating disorder, I could always go back. And while it was hard to live without it, it was so much better in every way to live in freedom that I stuck it out. Gradually, living healthy got easier, and then it became natural, and now it's just the way I live. Getting through those first difficult stages is the hardest part; then the rewards of health come fast and furious, and you begin to see how much you were missing while you were sick.
Can one fully recover from anorexia and/or bulimia, or do they pose a lifelong
struggle similar to alcoholism? How have you managed to remain healthy?
One can fully recover. It isn't easy, and unfortunately there is the belief that it can't be done; this belief encourages people to think it isn't worth trying. But it is worth it. The comparison with alcoholism isn't entirely off, though; I am a recovering alcoholic, and I don't think of it as something I "struggle" with, or will struggle with all my life. It isn't a struggle to stay off the sauce; it's a choice, and the real work is the personal growth one needs to continue doing over the years. I also know that I am at a higher risk of winding up drunk than is the average person, so I have to make sure I'm doing the personal work I need to in order to stay away from that first drink. Similarly, I'm at a higher risk for relapsing into eating disordered behavior than your average person is; I need to keep doing the personal work to stay away from that, too. But the idea of these things as "struggle" gives them a negative connotation that they don't have to have; they are choices one maintains with consistent effort. That's a good thing, not a bad thing.
You have gone on to become an accomplished writer and advocate. What has been the biggest struggle in achieving your goals and how have you managed?
The biggest obstacle to meeting my goals has always been my fear. I think that stops more people from realizing their personal dreams than anything else. Fear is my biggest challenge, and I meet it by doing the things I want to do whether they scare me or not. As Georgia O'Keeffe said, "I'm afraid all the time. But I never, never let it stop me." I wouldn't say I'm afraid all the time. But when I am, I don't let it stop me.
Anorexia and bulimia can be killers. While there seemed to be a considerable amount of attention given them in the late 80's and 90's, they seem to have slowly dropped on the radar since the year 2000. In the meantime, while the media and social pressures to be thin may have shifted a little, a large number of girls and women still idolize size zero, and obesity remains a national issue. Do you feel that enough has been done to educate people about eating disorders?
No. But I also feel that people are very resistant to seeing the way in which they are engaged in their own degree of obsession and body-hatred, and this is a big part of what perpetuates eating disorders. We have normalized a hatred of the body and an obsession with food to the point where we expect people to behave and feel in ways that are actually not normal at all; this is what I mean when I say that our culture is eating disordered. Not many people know what it would mean to truly take care of and respect their bodies, and that's what's strange. The fact that some percentage of the population develops full-blown eating disorders isn't odd at all; it's just an extreme form of what we have come to see as normal self-dislike and lack of self-care. I'm not saying it's acceptable, just that it isn't surprising. I believe the most effective education about eating disorders would be to ask people to look at how they, too, obsess and engage in unhealthy behaviors; what do they believe about healthy, beauty, food, their bodies? The most important tool in changing society is the individual act. Until each of us, as individuals, make the decision to stop playing this game, there will be a problem in the cultural as a whole.
We would all love to have the easy route to happiness but it doesn't always happen that way. In what ways have the negative, powerful forces in your life enabled you to emerge as the courageous, positive person you are today? When you look back on your life, do you believe that the path it took led you to a great place?
I do. I am a very, very happy person, very grateful for the people in my life, and very blessed. Experience is a great teacher. I would prefer it if it hadn't taken me so long to learn what I have; no person's troubles are theirs alone, and the people I love have suffered through a lot with me. I wish that were not the case. But yes, I believe that this circuitous path I've walked has brought me to a wonderful place.
What are the top three things that friends and family can do for someone dealing with eating disorders?
1. Be honest. Don't ignore the problem. Tell them what you see, and be honest about how that makes you feel.
2. Help them find help. Don't try to take care of them, cure them, or fix them; know that these are complicated disorders that require the help of professionals wherever possible.
3. Once they have that help, don't coddle them. Love them, but be firm in your insistence that they keep working toward recovery.