"They always said, 'Acting normal is crazy enough.'"
Yesterday the idea came to me that my love for writing and painting are like the emotion I have for my children (in a way). I had only one child for eleven years.
Bearing that child alone
, just out of college, and becoming a parent shaped who I am. My daughter was essentially attached to my hip as I made my way into adulthood, marriage, career, etc.
When the second child came along years later, I knew who I was. While we waited for the fresh little "chunk-a-lunk" to introduce herself, I wondered what it would be like to have a second child. Could I love it as much as the first? How would that work, and what would it feel like?
So how is this related to writing and painting, you wonder?
Well, like my first child, my love for writing has always been attached to my hip, growing stronger as I developed. It shaped who I am, and seems to be tangled with my very soul, beautifully fused in some fateful way. Years into it--when I thought there would be nothing else--painting came along. And just like the heart miraculously expands to love another child, my creative soul, kernel, base (whatever you choose to call it) seemed to explode, ensuring plenty of room for both.
My guest today, renowned artist,
Esther Barend
, reminds us that it's tough to do it all. And she's right! Like Esther, I wish I could clone myself, and do fifty things at once. Years of corporate culture induced time management and multi-tasking has helped but, like a good mother, there are days when I wonder if I can provide each with the right level of attention.
Esther didn't grow up with a creative silver spoon of support in her mouth. The specific encouragement she needed was often missing. We recently learned that best selling author
Margaret Weis'
parents were generally supportive of her highly focused interest in writing although they didn't always understand it. Esther's story and comments provide an interesting contrast.
Esther brilliantly touches on two important themes for creative individuals. How we can possibly act on all our ideas and creative interests, and how parental support influences our self esteem and our hope of following through ... on anything.
As for me, I can't give up either of my children, and I can't give up writing or painting. Wish me luck! As Esther points out, cloning may be the best answer ...
I often wonder if most highly creative people are born knowing wha
t they want to do. Have you always wanted to be an artist, or was it a specific creative interest that evolved over time?
From the moment I could read I wanted to become a writer. The idea that you could create a fantasy life yourself, printed so others could enjoy it too, attracted me. So I started writing my first 'books' at the age of 7--picturing a life I wanted to have but didn't. I showed the first 'book' to my parents, but after their reaction I decided to keep the next ones for myself. They were making a bit fun of it because one of my aunts thought she was gifted (which she wasn't) and wanted to become famous, no matter what or how. My parents often said that I was like my aunt, which of course I didn't like at all.
My father painted in his spare time, my mother was a ballet teacher. I was gifted with both their talents. I liked drawing and had high grades for the drawing and crafts classes in school. In my spare time a drew a lot and I attended ballet classes. But I had very low self-esteem. I always thought that I did not have enough creative talent to be able to go to the academy of arts and I was not stimulated by my parents either (which confirmed my thoughts of not being good enough). For a while I wanted to study dancing (to become a ballet teacher, like my mother) after high school. But my feet and body grew too big (for a while), and I had no self-confidence at all. So I decided to do something with my talents for languages.
A few years later blood proved to be thicker than water. It started as a hobby and evolved into my work: designing jewelry. For several years, I made two new collections of jewelry. The jewels were bought and sold by shops who sell exclusive clothing in The Netherlands.
Years later, I don't know why because I had never made one brush stroke in my life, I decided to go to the Academy of Arts and follow painting classes... and next everything fell in to place. I found my destiny... or maybe it found me. The ball was set completely rolling after a renown gallery owner asked me to become one of the artists in his gallery! Art is a way of living now and I'm earning my living with it. I have to admit that I get a lot of energy from the spontaneous reactions of people (all over the world) on my art and of course the sales (I celebrate every sale, because it's great that someone likes my art so much that he/she wants to own it). It gives me wings and keeps me going.
Do you have other creative interests, and if so, what are they?
I still love writing but it never came to a book (not yet). I did several projects with other materials and I've agreed to start a collaboration with an other artist in sculptures, beginning in a few months.
I've got so many ideas in my head that I need to clone myself to execute all of them.
There is a
stereotype that creative people are "different," which can be a positive or a negative at times. What are your thoughts on this?
It is more than true. I love being an artist. I love having so many ideas and dreams. I love being idealistic. Unlike when I was young, I've got a lot more self-esteem now. It came along with finding my destiny as an artist. The positive things about being an artist I cherish every day.
The negative things I try to live with. Because it can be a burden, too. I cannot stop looking with artists' eyes. In fact I'm always working. Whatever I experience and/or see goes directly to the archives in the catacombs of my brain. And of course some things simmer on 'the ground floor' for a while, before going to the archives. Also, I always feel the urge to surpass myself. But I know I cannot keep on doing that all the time. And I get bored quickly... I want to try and do it all.
Having a free mind is awesome, but it makes life complicated at the same time because a lot of people don't have a free mind. So I run against a lot of walls, prejudices (of others), and misunderstanding.
Personally I've learned to live with that. But in general, I don't understand people at all. What, in God's/heaven's/Allah's/earth's/cosmos' name have we people created? Why did we make such a mess of the world?
I've managed to find a way to live with these thoughts. For a while they've pushed me down, made me depressive. But nowadays I focus on the positive things of life. It is an art to look for the positive things in everything all the time, but as I always say--it's in the manner of seeing that moves your understanding. It makes me feel a lot more happy and, despite the negative things which of course are also in my life, I can honestly say that I feel very lucky.
Do you believe being creative has caused you aberrations in life, helped you deal with life's aberrations, or both?
Both. In fact, you can see answers to this above. Being creative--but not daring to be--has caused me aberrations. Finding my destiny has helped me deal with life's aberrations!
Have you had to de
al with people in your life failing to
understand your creative drive? If so, can you tell us about it and how you've dealt with it?
The only people who didn't understand my creative drive when I was young were my parents. Back then, I never dared to discuss my desire to become an artist with anyone else because of my lack of self-esteem. They always said, "Acting normal is crazy enough." The strange thing was that they were creative themselves! But their goal was to become rich (which I understand because of the time they were born, they were raised, etc.) so their mindset was that I'd better find a profession to become rich, too. I didn't deal with it very well. I suppressed my feelings because I wanted to be a good daughter. I know my parents think different now! And I have to add that for them
rich
meant "being independent and being able to do whatever you want to do--and you need money in order to do so."
Maybe nowadays there are people around me who do not understand my creative drive. If so, it says a lot about them, and nothing about me. I don't care at all.
I often wonder, "Am I truly creative or do I just think I am?" Have you ever wondered about this? In a world filled with creative people and people who think they're creative, how have you been able to distinguish yourself and your talent, despite any doubts along the way?
Yes, I have wondered about this. As a young person, I was convinced that nobody was waiting for me or my art. I was convinced that I was a nobody. I shouldn't have listened to myself. I've learned the hard way.
Unfortunately many creative people never ach
ieve the success they dream about. How do you cope with disappointments? What motivates you to keep going, to not give up?
I'm one of the lucky people who's achieved the success I dreamed about. I'm busy expanding it now. But I'm not without disappointments in my life. In fact, I've had plenty of disappointments. I've had my share and I'm convinced I'll get my share in the future, too. But I don't want to think like that.
I motivate myself because I've got some kind of engine in my body that keeps me going and like I've answered before--I get a lot of energy from the positive reactions of others.
I often won
der about the similarities and differences creative people have in terms of though processes. How would you describe your creative process? How does your mind work?
LOL!!! How my mind works I don't know! I just do what comes up. I'm quite disciplined. In the morning I get up, eat breakfast and next I run about five miles. I go to my studio and start painting. Through running I free my mind. Through painting I free my mind, too. Not thinking, but just painting gives the best results. Afterwards I often wonder where I was when the painting got painted. When I'm 'in' my painting I forget everything. I love that. I don't want to be disturbed at all. I work every day during the week. And if I feel like it, sometimes I work on a Saturday as well. But I have children, and also there is the love of my life, so I've got to give them some attention, too. In the evenings I answer my mails, write my blog, try to follow the news about what's going on in the contemporary art world etc. And of course think about the ideas that come up.
What are the top three characteristics of a highly creative person, in your opinion?
1) Having a free mind (and soul)
2) Having talent to create
3) Being social (knowing how to communicate)
Many creative people have tons of ideas but never follow through. I'm not sure if it's because they lack drive, organization, or focus. What are your thoughts on this phenomenon?
As I said before--a lot of ideas I have cannot be executed because I cannot clone myself. If I do something I want to do it in the best way I can. Creating takes a lot of time. So I have to make choices and learn to live with the fact that I can't do it all.
To learn more about Esther and her work, visit:
http://www.estherbarend.eu
http://estherbarend.blogspot.com
http://www.this-iz-art.blogspot.com
"The greatest lessons in your life come from your failures.
"
If you're like me, despite various successes, sometimes you tend to screw things up without even trying. I don't wish to stereotype anyone. However, based on my experience, highly creative individuals can be quite skilled at digging their own graves. This may or may not be an off-shoot of out-of-the-box thinking, intense focus, or a sensitive nature. Who knows? I'm still trying to figure myself out much less the rest of the world.
What I do know is that failure can lead to success. In both small and large ways, I've seen it happen in my own life. Over the years, I've become a firm believer in making lemons out of lemonade. Later this week, we'll hear from renowned artist
Esther Barend
, but today I want to take a detour and tell you about a new book based on the
lemonade
premise I hold dear.
Gina Mollicone-Long's
new book, Think or Sink: The One Choice that Changes Everything,
explores the power within each of us to create our own outcomes based on how we choose to think during times of failure. Of course, this applies to everyone, not just
creative individuals. However,
Think or Sink
holds powerful messages and advice for the creative soul. Creative folks are famous for our keen ability to milk self doubt and serve as our own worst enemies. In a highly competitive world that often lacks support for the arts, we need a boost. Let's face it, we crave words of encouragement that help drive us toward success. The more success we celebrate as individuals, the more the arts in general will flourish over time.
Whether you're an artist, writer, actor, accountant, stay-at-home mom, or just some dude who stumbled upon Aberration Nation for the first time, you're the most powerful contributor to your own fate. You're the one and only captain of the boat you're standing in; there's no way out. No way to jump onto your neighbor's. No way to trade yours in for a new model. When storms hit, the only options are to move forward or sink like a stone. Let's hear what Gina has to share with regard to how we might steer our unique vessels in more positive directions.
You're a motivational speaker, author, self-help guru, and personal development specialist. Was there something in your personal e
xperience that led you down this path?
I have always been motivated by the greatness that I see in others. I have always worked to help people reveal this inherent greatness. I have always stood for everyone being the absolute best that they can be. I started speaking when I was young. In fact, I was the valedictorian for both my elementary and high school graduating classes. Likewise, I have been coaching since I was 14 starting as a gymnastics coach. I loved coaching. At one point, I was a certified coach in gymnastics, soccer, diving, swimming, basketball and volleyball. Eventually, these skills transferred to management experience and working with individuals to craft a life they love, Now, I only work with executives, entrepreneurs and high performers coaching them to achieve amazing results. I'm only interested in getting results with my clients. It doesn't take us a lot of time because of the techniques that I use and my work is guaranteed.
You're book, Think or Sink: The One Choice that Changes Everything, sounds intriguing, and
certainly speaks to
the underlying concept of Aberration Nation. Tell us about the book.
Believe it or not, whenever anything happens to us, we always have a choice in determining our response to what happens. It might not always feel like that but we always have the choice. It we don't make the choice consciously then it will get dictated to us by outside forces like the media, our friends and family, etc. This is only a problem if the response causes us to feel additional stress in our lives. Many people like to blame their circumstances, especially when times are tough. Blaming the circumstances might make you feel good in the short term but it ultimately leaves you powerless because you have given your power over to your circumstances. It is not your circumstances that are to blame but rather it is your response to the circumstances that is the issue.
Successful people and great leaders do one thing differently than most people during times of challenge. They think for themselves and choose powerful responses to events instead of sinking into the prevailing negative default response of their circumstances and the people around them.
Think or Sink
is not a book about what to think. It is a book about how to think for yourself, perhaps for the first time. There are a lot of books that tell you what to do. Sometimes the advice works and sometimes it doesn't. There is no sure-fire way to tell. This is a different kind of book. This book is about how life works as a process. This book will show you how it works so you can make good decisions about what is right for you. This is not a book about positive thinking; this is a book about positive responding.
What was your inspiration for writing Think or Sink?
I noticed in my own life that I seemed to be at the mercy of my circumstances a lot. I found myself often wishing that someone or something would change so that I could finally relax. It dawned on me one day that this was a very dis-empowering way to live because I had no control over my own life experience. My first book,
The Secret of Successful Failing
, explores the paradox that your greatest gifts come out of your biggest challenges. This point of view was such a powerful re-frame for anything in my life that didn't go my way. As I continued exploring the paradox, I found myself noticing that if I took complete responsibility for my response in any situation that I had a great deal of power and choices in those situations. I began doing research and developed a model for retaining your personal power regardless of the circumstances. It has worked amazing wonders in my life. Since employing the techniques that I write about I have enjoyed numerous results in all contexts of my life such as releasing 50lbs of excess body weight, landing the publisher for
Think or Sink
, increasing the revenue in my business, and taking my marriage to a completely different level (to name a few).
Everyone hits roadblocks in life; it's inevitable. Why do some people learn from them and move on, while others just get stuck?
It comes down to choice. We choose our responses. Always. We either make these choices consciously and with volition and intention or they get chosen for us unconsciously typically led by the prevailing response of people around us. Most people don't realize how much power they have in every single situation. No one can ever be in complete control of what happens to them or around them but we can always be in charge of how we respond to any situation. If you are stuck then make a choice to get going. If you hit a roadblock then focus your intention to find a way around and the way will appear. Maintain focus on what you want and never never never give up on yourself. Just keep moving.
In your experience working with others on personal development, what have you seen as the top three characteristics that keep people from moving forward?
Instead of focusing on what holds people back, I am much more interested in what successful people do to maintain momentum and get results. Part of my formal training is in Neuro-Linguistic Programming (NLP). At the most basic level, NLP is a study of excellence and how to replicate. Therefore from an NLP perspective, I am concerned with understanding the strategies and behaviors that are common amongst the most successful people in the world in all areas of life.
In my experience, these successful people share the following three attributes:
1. They FOCUS on what they want. They never take their eye off the prize. They give all of their energy to focusing on what they want and none of their energy on what they do NOT want. This idea of focus is a key theme in Think or Sink.
2. They are on the CAUSE side of the equation. In life there is an equation that states a certain cause produces an certain effect. Successful people realize that they are the master of their experience and are the ultimate cause for their results. In life, you either get results or you have reasons. Bear in mind that no results plus a great reason still equals NO RESULTS. Successful people aren't interested in the reasons why they don't have what they want. They use their results (or failures) as feedback to ensure that they remain powerful and therefore on track to success.
3. They maintain powerful states of Being. Successful people realize that they are ALWAYS in charge of their response to any situation. They understand that their response dictates their mental, emotional and physiological resources at any given moment. They maintain responsibility to keeping themselves in the most positive and powerful states of Being. They do not allow circumstances and people to knock them over.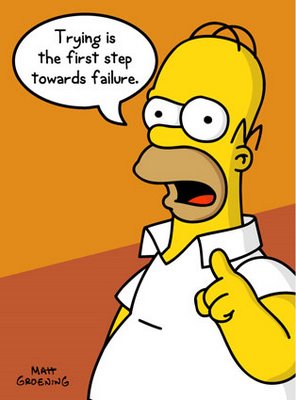 Although we have countless years of history to draw from, there still remains such a stigma on failure. However, you've said that one of the most notable qualities shared by great leaders is the ability to learn and benefit from failure and setback. Do you coach individuals in the midst of failure, and if so, what are your key messages to them?
My work centers around helping my clients get exactly what they want. I work with people who have enjoyed a lot of success, people that have failed, and people that haven't even tried yet. In all cases, the clients MUST be willing to do whatever it takes for their dream. My work is a "do-with" process and not a "do-to" process. It is very powerful. It gets results, real results and it gets them quickly.
My key messages to my clients are the same as in #5 above.
1. Focus on what you want (and only what you want)
2. Remain on the cause side of the equation of the results in your life
3. Maintain a powerful state of Being by maintaining control of your responses to situations, circumstances, events and people.
4. Finally, take massive action towards what you want. Do not let up.
We'd love to hear some examples of success over failure that you've personally witness
ed in your work. Are there any you can share with us?
It's not success over failure. Every life experience is worth having. The greatest lessons in your life come from your failures. In fact, I am often quoted in the media on the topic of self-esteem. I always respond by pointing out that true self-esteem does not come from a "failure-less" environment. Rather, true self-esteem comes when you are face down in the proverbial mud and you DECIDE to get back up. In that moment, you discover new resources and realize that you are made of much more than you thought you were. This is the gift in failure. For example, in my own life, a "failure" early on my corporate career to be passed up for a promotion that I really thought that I deserved caused me to search deep within myself to realize that the corporate world was not where my I belonged. My heart wanted to start my own business, write books, teach seminars, and work with people. If it hadn't been for that failure in my career, I may never have developed the resources that I needed to be a success today.
What would you say are the three most important steps in turning failure into a positive?
This is easy.
1. Treat all failure as feedback. Use the information that you have in the feedback to go back and make a change INSIDE yourself.
2. Keep moving forward focused on what you want. Never never never quit.
3. Recognize that you are always in control of your response to ANY circumstance and ensure that you are choosing the powerful response to what is happening to you.